Every year, OCP launches a large-scale "work-study and internship" recruitment campaign for students from all disciplines.
After assessing the needs of all departments in the company, OCP publishes work-study internships on its website between April and May. Students who are interested have until June to submit their application. Selections take place between June and July. In September, internship students are officially welcomed into OCP.
With this specific "Youth Program", OCP aims to offer better integration for students within the company by strengthening the role of tutors.
Throughout the year, OCP organizes open days in our various pharmaceutical centers to introduce future pharmacists to the logistics of distribution and to let them help with preparing orders from pharmacies.
Would you like to arrange a visit from your university? Get in touch with your faculty or your student body to find out the dates for visits. Alternatively, contact us!
Visits to the very heart of the distribution business
A strong partnership with the ANEPF (French Pharmacy Students' National Association)
We collaborate with the ANEPF and 24 student bodies, we regularly participate in forums and trade fairs to meet the pharmacists of tomorrow.
Supporting the young talent of tomorrow:
A partnership with the Pharmaceutical Distribution Masters Degree (Limoges)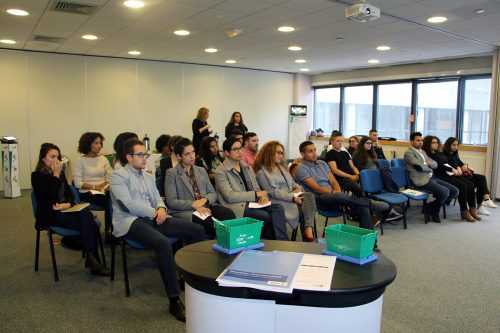 OCP supports students throughout their studies. Since 1987, OCP has partnered with the Pharmaceutical Distribution Master's Deree at the Limoges University Faculty of Pharmacy and have also helped to create placements with companies in the sector.
This training opportunity provides access to many pharmaceutical distribution professions. Courses are provided in part by executives who work in the dispatch and industry sectors. You can join this Masters program from your 6th year in pharmacy. It has 5 months of courses and 6 months in an internship suited to your course:
Pharmacy sector: 3 months of pharmacy internship + 3 months of distribution internship
Industry sector: 6 months of dispatch internship
 
To find out more, visit the University of Limoges website.
MyPharmag, the student pharmacist community
OCP created MyPharmag , which is a place to communicate and chat with your fellow pharmacist students. MyPharmag keeps you up-to-date with the latest news in the pharmaceutical industry. Discuss the important topics for the future and get practical tips and advice for your studies. Find out about the dates for our future events and browse our latest available internships.
Do you know who we are and what we do? Join us now!